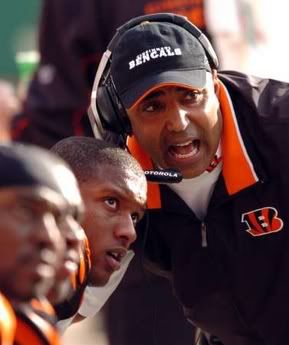 One would think that the Bengals are entering a season of put up or shut up. They have a wealth of talent, from QB Carson Palmer, WR Chad Johnson and T.J. Houshmandzadeh, and running back Rudi Johnson and Kenny Watson. They have been under the direction of coach Marvin Lewis since 2003, yet have just one playoff appearance. So entering 2008, is Lewis on the hot seat? If not, should he be?
Lewis has spent more time it seems trying to play police officer for a group of undisciplined players than being a coach. The one year he was really able to sit back and coach, the team went 11-5, but were derailed by a Steelers team in the playoffs that had history on their side as they swept through the AFC en route to their fifth Super Bowl back in 2005. It's now 2008, the Bengals haven't been in the playoffs since, and it's time for Lewis to put up or shut up.
Sure you can start the excuses with the way that Chad Johson has toyed with the emotions of the team through the offseason, one day saying he'll be there, the next day saying he wants out. You can point to the team cleaning house of players with tainted pasts like LB Odell Thurman and WR Chris Henry, and even the fact that the team plays in a tough division with a goodSteelers team, an up and coming Browns team, and an always physical Ravens team.
Make all the excuses you want – Lewis and the Bengals better deliver, and now.
Carson Palmer is entering the prime of his career. He's 28, has been in the system for five seasons, and last year threw for a career-high 4131 yards with 26TD's and 20 picks. He has total control of the offense, and is like a surgeon when he gets time. With the wide outs and running game, the Bengals offense has the potential to be very good, and able to score a lot of points.
So Lewis' big job this season will once again to get the Bengals defense shored up. They drafted LB Keith Rivers in the first round, sending a message that they realize that unit must be upgraded. The run defense allowed over 4 yards per carry, and close to 350 yards per game. The Bengals future, and the future of Lewis sits in the success, or lack thereof of this unit. They play well, the team likely will be competitive. They don't, those footsteps may get even louder.
Make no mistake, Lewis' job should be talked about. He is still highly regarded as a good coach and one that has turned the franchise around, but another down year and there may not be many more excuses left as to why thisCincy team can't get the job done.